Technology Study Partnership with Georgia Hispanic Chamber of Commerce
In September 2017, the United States Census published
a chart
that painted a grim picture of technology access and adoption by race. Compared to the White and Asian populations, the Black and Hispanic populations were significantly underrepresented.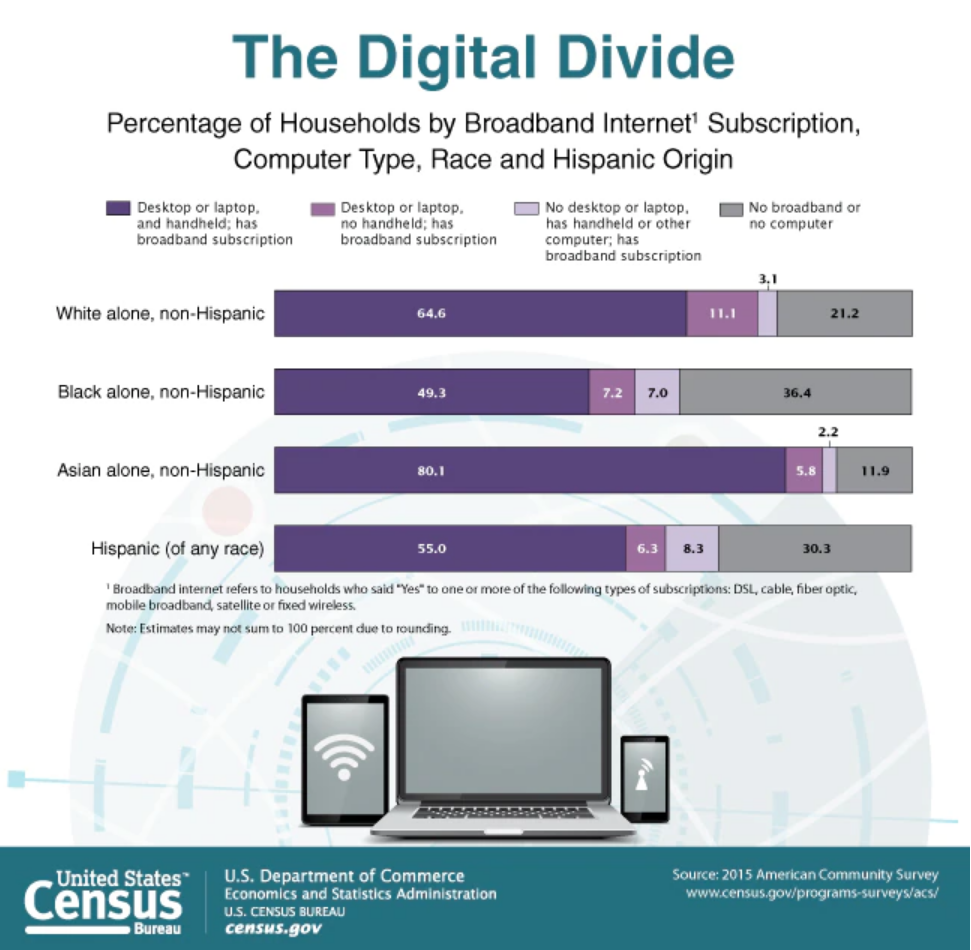 This mimicked patterns that buildJUSTLY founders Vicky Tamaru and Chewy Chong discovered while working on the Microsoft Windows and Edge
(OS and browser) products.  Our initial research lead us to a number of  hypotheses around the disparities in adoption of technology that we wanted to investigate further. When we founded buildJUSTLY in Summer of 2020, we knew that one of the first populations we wanted to focus on was the Latino / Hispanic communities because of what we saw in our own data and in the data collected by the American Community Survey. Many studies of the Hispanic population are generally conducted in California or Texas because of the concentration of population.  In those states, however, a significant percentage (70%+) is made of individuals whose family's
country of origin is Mexico
. Because we know that Hispanics are not a monolithic group, it was important to us to design a study to capture more diversity and additional nuances such as date of family immigration, country/countries of origin, and household income level. In our research we were able to identify Georgia as the state that reported the fastest growth rate of Latino population in the country.  In addition, its Latino population is
more diverse
than in other states, with top countries of origin including Mexico, Puerto Rico, Guatemala, El Salvador and Colombia. buildJUSTLY and
Georgia Hispanic Chamber of Commerce (GHCC)
 will be supporting each other in launching and executing our first technology study.   Through GHCC's on-the-ground support and excellent reputation within their community, we will endeavor to not only to better understand the barriers/frictions and interests/needs to technology of Hispanic small business owners in the state of Georgia but will also work to develop specific ways we can bring down the barriers to technology competency.  Throughout this study, we will be measuring our efforts through both opt-in telemetry collection alongside on-going qualitative interviews and surveys which we will share publicly.
Sign up
for our newsletter for updates in the coming months.